Ink Disease
From ZineWiki
Jump to navigation
Jump to search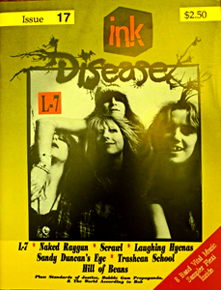 Ink Disease was a punk zine from Los Angeles. California. U.S.A.
Started by Rachel Siegel, Antonio Lopez and Ivan Morley, they were joined by Thomas Siegel and Steve Alper, who remained with the zine till the end of publication. Ink Disease was published in the early 1980s and into the 1990s.
Contributors to Ink Disease included Brian Trudell, Joe Henderson, Chris Houston, Brady Rifkin, and the editors, among others.
Featured were interviews with musicians such as Ian MacKaye, from Minor Threat (#10), To Damascus, with Sylvia Juncosa (#13), Big Black, with Steve Albini, Agnostic Front, Dead Milkmen, Saccharine Trust, SNFU, among others.
Jimmy Alvarado, in his article "Teenage Alcoholics: Punk Rock In East Los Angeles", from Razorcake #3, August/September 2001, writes about the zine; "In its early stages, Ink Disease was similar in style to many other fanzines of the time, with chaotic layouts, poorly reproduced photos, and the like. In addition to interviews with bands and record reviews, one could find reviews of old movies that were playing at Pasadena's Rialto Theatre, copy clipped out of various newspapers, 'The Adventures of Punk and Pop' comics and Brady Rifkin's bumper sticker reviews.
As it gained popularity (at one point rivaling Flipside), its layouts and text became more coherent and the general vibe of the fanzine became considerably more focused. Ink Disease continued into the 1990s, but it began reaching the newsstands only sporadically, first seemingly at quarterly intervals, then almost annually, and it finally disappeared."
Editor Thomas Siegal was interviewed for the zine Punk Research.
Rachel Siegal and Antonio Lopez also published Emissions.
External Links