I Live In A Fuckt Up Society
From ZineWiki
Jump to navigation
Jump to search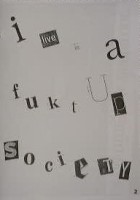 I Live In A Fuckt Up Society is a cut and paste zine made by Mujinga.
As of 2007, three issues have been produced. The zine is compiled by cutting out all the eyecatching or disturbing headlines from a particular weekend's newspapers and juxtaposing them with powerful images, also taken from the newspapers. On his website Mujinga says "the idea was to capture the feeling you get when you read the newspaper and it's all bad heavy sick shit".
This project has now been discontinued (as of 2012) since the quality of the UK's free newspapers such as the Metro removes the need for satirical productions.
See Also
External Links