IF!
From ZineWiki
Jump to navigation
Jump to search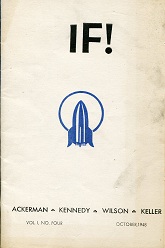 IF! was a science fiction fanzine edited by Conrad ("Con") Pederson and published in the late 1940s from Inglewood, California, U.S.A.
IF! lasted at least four issues. The third issue was published in June 1948 and the fourth in October 1948.
Don Wilson (Dream Quest) and Joe Kennedy (Vampire) were the Contributing Editors.
The fourth issue included work by Forrest J Ackerman (Imagination!), R. Flavie Carson, Lin Carter (Spaceteer), David H. Keller, Joe Kennedy, Len Moffatt (The Outlander, Shangri L'Affaires). Cover art by was Pederson. Illustrations were by Pederson and Miller.
Pederson also edited Snarl, and Morpheus, and was one of the co-editors of The Outlander.