Gothism
From ZineWiki
Jump to navigation
Jump to search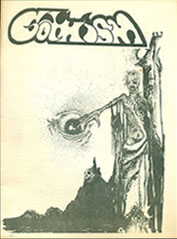 Gothism was a horror zine edited by Robert Comorosky.
Gothism was published in Dartmouth, U.S.A. in the 1970s. At least four issues appeared.
The first issue appeared in July 1971 and features a photograph of Hammer Horror actor Christopher Lee on the cover.
Issue 3 was published in 1972.
Issue 4, released in 1973, featuring the article "Stay Tuned For Terror", by Robert Bloch, an account of his experiences creating and writing 15 minute scripts, many of which were adaptations of his pulp stories from Weird Tales, for a syndicated radio show recorded in Chicago in 1945 called "Stay Tuned For Terror". Other contributors included Harry O. Morris (Nyctalops), and Wilum Pugmire (Midnight Fantasies).
Contributions of art work came from C. Dean Anderson, who did the cover for issue 4.