Fantasmagoria
From ZineWiki
Jump to navigation
Jump to search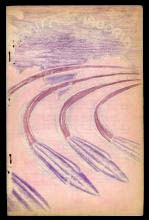 Fantasmagoria was a science fiction and weird fiction fanzine edited by John J. Weir in the 1930s.
Fantasmagoria was published in Perth Amboy, New Jersey, U.S.A. The first issue appeared in March, 1937, and it was a hektographed and stapled publication. Four more issues appeared: #2 (July 1937), #3 (Winter 1937), #4 (November 1938), and #5 (Winter 1939-1940).
The Winter 1937 issue featured a Baudelaire poem translated by Clark Ashton Smith.
The November 1938 issue saw the first appearance of The Abomination of Desolation by Clark Ashton Smith and Manly Wade Wellman's The Knowst.
Contributors included Robert Bloch, Bernard A. Dwyer, Henry Kuttner, J. Harvey Haggard, Hazel Heald, H. P. Lovecraft, Robert Lowndes, William Lumley, Emil Petaja, Duane Rimel, Clark Ashton Smith, Corwin F. Stickney (Amateur Correspondent), and Manly Wade Wellman.
Illustrations were by John V. Baltadonis, editor of Fantasy Fiction Pictorial, Fantasy Fiction Telegram, and Science-Fiction Collector.