Evermist
From ZineWiki
Jump to navigation
Jump to search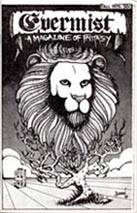 Evermist was a fanzine devoted to fantasy and weird fiction edited by David Richard Warren and published by John Alan Little and David Richard Warren.
Evermist was published in LaBelle, Florida, U.S.A. The first issue appeared in December 1974, and 15 issues were published until the last issue was released in Summer 1978.
Contributors of poetry included David Bailey, William R. Barrow, Neal R. Blaikie, John Alan Little, John Thiel, and David Warren.
Contributors of fiction included Ken Hahn (Jeet), J.T. McDaniel, William Monaghan, Gary Robert Muschla, Eric Storm, David R. Warren, and Marjorie Warren.
Articles and essays included a biography of H. P. Lovecraft by Dirk W. Mosig (The Miskatonic), and reviews by David Warren.
Contributions of art work were by Jeff Adams, Rick Harrison, Sabrina Jarema, John Alan Little, Michael Littlejohn, Dirk W. Mosig, David Parsons, and David Vosburgh.
Writing that appeared in Evermist by David Bailey and John Alan Little is credited with being part of the Cthulhu Mythos. As well, Vol. 2, No. 1 was devoted to works in the Lovecraft vein.