Cyber-Psychos AOD
From ZineWiki
Jump to navigation
Jump to search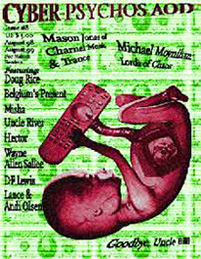 Cyber-Psychos AOD was a small press publication edited and published by Jasmine Sailing.
Cyber-Psychos AOD ran from 1992 till 2001, and nine issues were released during that time. Each issue featured interviews, essays, articles, band and artist profiles, fiction, illustrations, and reviews.
The first issue featured cover art by Brian Cooper, artist profile of Gordon Klock; band profile of Futura Ultima Erotica; interviews with Martin Atkins, Pigface, Joel Haertling, and Architect's Office.
Issue 2 was the "The Special Theological Issue", and featured cover art by Brian Cooper; artist profile of Voodoo; interviews with Godflesh, The Electric Hellfire Club, Rhys Fulber, Pamela Z., and The Cutthroat Empire; and an editorial by Bob Larson.
Issue 3, 1993, featured cover art by Gordon Klock; artist profile on Will Anders; and interviews with Crash Worship, Pigface, Thomas Steenland, Nick Zedd, and Edward Lee.
Issue 4, 1993, included cover art by Gordon Klock; artist profile of Chris Yardley; feature on t. Winter-Damon; and interviews with t. Winter-Damon, Lucy Taylor, G.X. Jupiter-Larsen, Type O Negative, and Sofahead.
Issue 5, 1994, included cover art by Will Anders; feature on Vampire Rodents; artist profile of Dave O'Brien; and interviews with Vampire Rodents, Johnny Indovina, Pain Teens, Citizen Fish, Joe Christ, and Julie Doucet.
Issue 6, 1995, was the special "Schizophrenia/Alternate Realities" issue, and included a cover by Gordon Klock; features on Brian Hodge and Sleep Chamber; artist profile on Alex Seminara; interviews with Brian Hodge, Sleep Chamber, Severed Heads, Uncle River (Xizquil), Adam Parfrey (Feral House), and Mark Amerika.
Issue 7, 1997, included cover art by Alex Seminara; feature on John Shirley; artist profile of H.E. Fassl; and interviews with John Shirley, Larry McCaffery, Paul M. Sammon, Phillip Kent, Tiamat, Carol Lay, Little Fyodor, and Jaci Marsh.
Issue 8, 1998, included a cover illustration by Andi Olsen and Bruce Young; a feature on Doug Rice; artist profile on Andi Olsen; and interviews with Misha, Andi Olsen, Mason Jones, Ongaku Otaku, Michael Moynihan, and Present.
Issue 9, 1999-2000, was the last issue, and included cover art by Gordon Klock and Amara Sailing; feature on Andrew Vachss; artist profile of M. Parfitt; and interviews with Andrew Vachss, R.N. Taylor, Don Webb, M. Parfitt, Black Tape for a Blue Girl, and Arkov Kapacitor.
Essays were by Guy Adams, Kelly Gunter Atlas, Frank Borsch, Len Bracken, Paul W. Campbell, S. Darnbrook Colson, Jim Bob Cook, John Everson, H.E. Fassl, Ed Finkler, Y. Von Faust, John E. Graves III, Paul Graves, Barbara Griffith, Don Harrold, Michael Hemmingson, Chad Hensley, Brian Hodge, Ron Howerton, Steve James, Jazz, Alex S. Johnson, J.K., Gene Kannenberg, Jr., Arkoff Kapacitor, John Kerper, Gordon Klock, Chris Korda, Raine Koskimaa, Edward Lee, Bill Lemieux, Paul Lemos, Little Fyodor, Amey Mazurek, Joel McLemore, Brendan Merritt, Erryn Mnementh, Michael Jenkins Moynihan, Joe Nahmad, Louis Kahn Nygen, Lance Olsen, Loren Rhoads, Doug Rice, Paul T. Riddell, Bob Riedel, Trevor Rigler, Jasmine Sailing, Wayne Allen Sallee, Gene Santagada, Alex Semonara, Joe Simon, Paul Schiola, Joe Simon, Richard Singer, Jason Smith, Steven Snair, Christie Sohnholz, Jeffrey A. Stadt, Lisa Sutpen, R. Nicholas Taylor, Stephanie Walton, Don Webb, t. Winter-Damon, Chris Yardley, Bruce Young, and Iidia Yuknavitch.
Fiction was by William Andrew, M. Christian, Paul Collins, S. Darnbrook Colson, Brian Cooper, Deidra Cox, Robert Devereaux, Sean Doolitle, Bill Eakin, Lorin Emery, C.S. Fuqua, Daveed Gartenstein-Ross, Brian Geddes, Michael Hemmingson, Brian Hodge, Deborah Hunt, Gregory R. Hyde, Geoff Jackson, Charlee Jacob, Kerry Knudsoen, David F. Kramer, D.F. Lewis (Nemonymous), Mark McLaughlin (The Urbanite), Dave Mariah, Jacie Marsh, Julia Matusov, Edward J. McFadden, Christopher Morris, Gary Lynn Morton, Kurt Newton, Gregory G. Nyman, K.K. Ormond, G.F. O'Sullivan, Doug Rice, P.J. Roberts, Erik Rush, Wayne Allen Sallee, John Shirley, S.L. Shrewsbury, Jeffrey A. Stadt, Sue Storm, Jennifer Swift, Jeffrey Thomas, Uncle River, Andrew Vachss, Don Webb, Bo Vilmos Widerberg, Richard Wilber, t. Winter-Damon, and Thomas Wiloch.
Short story prose and poetry was by Bruce Boston, John Everson, Richard Gess, Tom Hamill, Scott C. Holstad, J.K., John Kerper, Kerry Knudsoen, Mark McLaughlin, Kurt Newton, K.K. Ormond, Wilum Pugmire (Idiot Chaos), Wayne Allen Sallee, S.L. Shrewsbury, Uncle River, Scott H. Urban (Frisson), Don Webb, and Paul Weinman.
Illustrators included Matt Allison, Will Anders, A. Bele, Brian Clark, Kay Cochran, Kim Colson, Jim Bob Cook, Brian Cooper, H.E. Fassl, Steve james, Gordon Klock, N.Tro.P., Dave O'Brien, Christian Patchell, Wendy Piper, Amara Sailing, Richard A. Schindler, Paul Schiola, Alex Seminara, Alan Smith, Jeffrey Thomas, Voodoo, Jason D. Waikes, t. Winter-Damon, and Bruce Young.