Campfire
From ZineWiki
Jump to navigation
Jump to search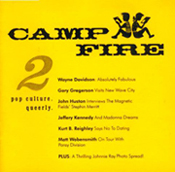 Campfire is a pop culture zine published in San Francisco, California, U.S.A.
Released in the 1990's, the credit for issue one is "A Silent Twins Production". The "Silent Twins" were Jeffery Kennedy and John Huston. For issue two the publisher is listed as "Picnic", which was Jeffery's graphic design business. Each issue consists of essays, articles, interviews and stories from a queer male perspective.
Issue one is four inches by eleven inches, with a green card stock cover that lists the included contents as: "Dennis Cooper Asks "What Is God?"; Wayne Davidson Explores Minogue Mania; John Huston Interviews Saint Etienne's Bob Stanley; Jeffery Kennedy Rescues ABBA; Johnny Noxzema's Guide To New York; Kurt B. Reighley - Pornography And Me."
Issue two is five inches by five inches, with a yellow card stock cover that lists these contents: "Wayne Davidson: Absolutely Fabulous; Gary Gregerson Visits New Wave City; John Huston Interviews The Magnetic Fields' Stephen Merrit; Jeffery Kennedy And Madonna Dreams; Kurt B. Reighley Says No To Dating; Matt Wobensmith's "On Tour With Pansy Division"; PLUS A Thrilling Johnnie Ray Photo Spread", which, inside the zine, is entitled 'Johnnie Ray invented rock-and roll with his hit single "Cry.'". This issue concludes with a quote from Damon Albarn of the band Blur.