Babel
From ZineWiki
Jump to navigation
Jump to search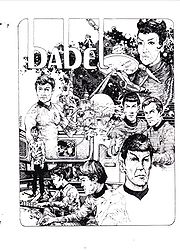 Babel is a media science fiction fanzine edited by Margaret Basta and Laura Trise Basta.
Babel was published in the early 1970s, and was devoted to the original television series Star Trek. It was published by LL-LL & Igor Publications, printed offset, 3 hold punched and brad bound, about was about 90 pages. Issue 2 was released in January 1972, #3 in October 1972, #4 in February 1973, and #5 was published in February 1974.
In the editorial in issue #3, one of the editors wrote, "Long ago and far away, my idiot sister and idiot self decided to do a fanzine appropriately named 'Babel.' IN a very big hurry we learned a few things about mimeographs, stencils, and oil-based inks and how bent drums leaked. Now we are learning about multilith and 50% reduction of pages and other nifty keen things about running our own fanzine."
Contributors of art work included Alan Andres, Mark Andres, Laura Basta, Margaret Basta, Randy Bathurst, Roberta Brown, C. Lee Healy, Doug Herring, Mike Kucharski, Adrienne Levine, Tom Orzenowski, Jennifer Reid, and Terry Austin, who did the cover art work for the first three issues, among others.
Contributors of writing included C. Ayer, Laura Trise Basta, Margaret Basta, Ruth Berman (Inside Star Trek, T-Negative, The Star Trek Songbook), R. Brown, V. Condor, G. Felipe, Marel Lelik, Burt Libe, Jacqueline Lichtenberg, C. Lynn, Diedre Matthews, K. Phelps, Brian F. Reiss, and Frederick L. Reiss, among others.