As my jaw dropped to the ground...meek faces and apocalyptic visions
From ZineWiki
Jump to navigation
Jump to search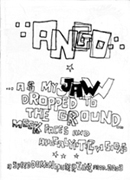 As my jaw dropped to the ground...meek faces and apocalyptic visions is a zine by Ango Visone.
This one issue only zine was released in 2003 in Italy and published by Speed Demon. It is a collection of the drawings and art work of Ango Visone.
In his drawings appear large-eyed characters evocative of Margaret Keene's 1960's paintings of doe-eyed children. However Visone's characters are from the Goth and Industrial subculture, and are dressed in leather, chains and big boots, with multiple piercings. They are sometimes scarred, bleeding, or have black eyes, and often rising from flames as if escaping Hell. Text surrounds them, with slogans such as "Flames Of Passion", "Stay Horny", "The Giddy Age of Sorrow", and "I'm So Fucked Up". Many are identified as queer by the slogans on their t-shirts or words surrounding them, such as "Fag Goth Rules". The last page is a large slogan reading "Queer Rage Against Homophobia".
The centerfold is a collage of text and an image of a goateed man in bondage gear, a black t-shirt, and black make up encircling his eyes.
See also