AQUA
From ZineWiki
Jump to navigation
Jump to search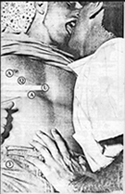 AQUA is a queer anarchist zine by Bru Dye from New York City, NY, U.S.A.
AQUA emerged in the late 1980's and ran for a number of issues. It was a photocopied cut and paste publication. It featured content from both genders and alternating covers of images of men and women.
Issue two, released in August, 1987, featured an article entitled "Gays In Yugoslavia" by Borut, part two of "Escape from Heteroburbia" by Flamingo Rhodes, "Lesbians, Feminists and Bob Black, Homophobe" by Lorraine Schein; "The Night I Rode Ron, Jr." according to 'Times Square Cowboy'; a letter from Bruce LaBruce; and "There Is No 'AIDS Test'" by Bru Dye, along with fiction, poetry, quotations, and lots of graphics, often reflecting a Discordian sensibility.
Issue three, released in March, 1989, featured a call to celebrate the 20th Anniversary of Stonewall with direct action; "Gays and Punks", by The New Lavender Panthers; "My Bisexuality" by Laure A.; "Cruising Nicaragua" by Bob Lubarsky; "Safer Sex For Women" from Women and AIDS Handbook by the Women's Caucus of ACT UP/NY; "Fagbash" by Carl Morse; a comic by M. Lydbrooke, as well as graphics, fiction, poems, and quotes.
Zines in contact with AQUA are listed as Androzine, J.D.s, Queer Anarchist Network, RFD, and Scut.