Scut
From ZineWiki
Jump to navigation
Jump to search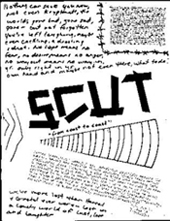 Scut is an anarchopunk zine by Tom Scut.
Released in the late 1980's in Selden, NY, U.S.A., Scut was a photocopied, cut and paste zine devoted to anarchist politics and punk music. It had previously been called Breaking Chains 4 Emily.
On the cover of issue two the editor announces the underlying principle of the zine: "no matter how horrible things may seem, one always feels better complaining about them."
Articles in the second issue included "I Slept With Donny The Punk", an account by the editor of staying over with a friend at Donny The Punk's apartment; despite being "...in the clutches of the biggest threat to machopunk since androgyny", nothing happens. There is an interview with the band A Dying Gymnast; "Diary of a Vege-Marxi-Tarian" by Ray; "News from The Front", a series of reports on activites such as the December, 1986 activities of the animal liberation group "True Friends", students occupying the administration building at S.U.N.Y. at Stony Brook in February-March, 1987, and striking workers in Scotland taking over Caterpillar Multinational factory on Mar, 1987; as well as reviews of books and zines such as Neither/Nor Press.
Issue three includes a Long Island scene report on clubs and bands; a discography of Long Island recordings from 1981 till 1987; a guide to vegetarian food in New York City; "Modern Times: Anarchy on Long Island", a history of the anarchist communal living community "Modern Times" that was formed in the early 1850's; "Feederz, Gilman and the Punk Elite" by Amazing Grace; as well as information from PETA. Contributors for this issue included Alex, Amazing Grace, Jim Moschella, Spiney Norman, and George Starbuck. Zines reviewed in this issue included Beware, Bullshit Monthly, Circular, J.D.s, Life Of Crime, Little Free Press, NYC Bat Report, Perpetrator, Scrap, Slapdash Hackery Factory, and State of Fury.
Editor Tom Scut was later a member of the hardcore band Pollution Circus.