1130 Club
From ZineWiki
Jump to navigation
Jump to search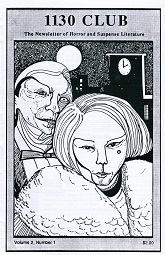 1130 Club was a "newsletter of horror and suspense literature" edited by Clifford V. Brooks and published by 1130 Club Publications of San Jose, CA, U.S.A.
At least five issues were published in the 1980s.
Issue #4/5 appeared in 1986 and included "black and white tales of terror" by Kathleen Jurgens (Thin Ice), and other writing by Kevin J. Lindenmuth, Elizabeth Massie, Thomas O'Connor, Wayne Allen Sallee, David Starkey, and Scott C. Virtes (Alpha Adventures, Sycophant). Cover art was by Robert Brown. Interior illustrations were by Roger Gerberding, Marge B. Simon (Star*Line), and Scott C. Virtes.
Issue #6 (#2.1) appeared in 1987 and was a book review special issue, with reviews by Brooks, Harold Lee Prosser, Jeff Radt, Octavio Ramos, and Wayne Allen Sallee, plus poetry by Jon Vertho, and nonfiction by Brooks. Cover art was by Marge B. Simon and Jeanette M. Hopper.