Woomera
From ZineWiki
Jump to navigation
Jump to search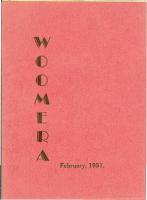 Woomera (1950-1953) was a SF / F / H fanzine edited and published by Nick Solntseff in Sydney, NSW.
The first issue appeared in August 1950 and was a 12pp folded foolscap duplicated effort. Early in 1951, Nick Solntseff decided to abandon the duplicated format of Woomera, and start afresh with a new 20 pp. 8vo printed magazine. The result was by far the best fan publication in Australia at that time. The second issue (also #1) appeared in February 1950, and the final fifth issue (#4) appeared in February 1953.
Contributors included Lex Banning, Ted Butt, Wm. I. Case, Thomas G. L. Cockroft, Roger N. Dard (Star Rover), Vol Molesworth, Richard Preston, Eric F. Russell, Rosemary Simmons (Vertical Horizons), Kevin L. G. Smith, Graham B. Stone, William D. Veney, and Royce S. Williams.
Letters came from Lex Banning, G. M. Carr (Cry of the Nameless), and Arthur Haddon (Telepath).
External Links