The Zed
From ZineWiki
Jump to navigation
Jump to search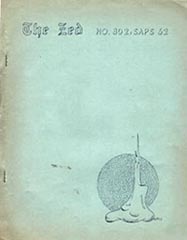 The Zed was a science fiction fanzine by Karen Anderson produced in Orinda, California, U.S.A.
In the 1950s and 1960s, Karen Anderson produced The Zed, a mimeographed fanzine made for the Spectator Amateur Press Society (SAPS). This was a long-running small publication, with some issues consisting of just six pages, as was the tradition with many Apazines.
The Zed was short for Die Zeitschrift für Vollstandige Unsinn translated as The Journal for Utter Nonsense.
It is in the pages of The Zed that the first documented deliberate use of the word "filk" appeared, to describe a filk song written by Poul Anderson that was published in issue # 774, Winter 1953, part of the 26th SAPS mailing. Other writing about filk singing appeared in subsequent issues.
Other contributors included Robert Bloch and Gordon R. Dickson.
Karen Anderson also published the fanzines Alif, Goliard, the 1958 one shot Henry Kuttner - A Memorial Symposium, and Vorpal Glass.
External Links