The Flight of the Kangaroo
From ZineWiki
Jump to navigation
Jump to search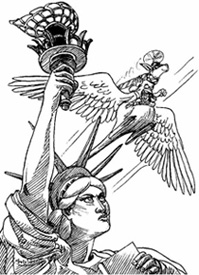 The Flight of the Kangaroo is a science fiction fanzine by Christine Ashby.
The Flight of the Kangaroo was published in South Melbourne, Victoria, Australia, in 1976, and was her DUFF trip report zine.
In her trio report, Christine talks about visiting San Francisco, U.S.A. where she stayed with Charlie and Dena Brown, and met Robert Silverberg (Spaceship), and Fritz Leiber, then went on to Alburquerque, staying with Chrys and Roy Tackett, and meeting Bill Rotsler. Next she was off to Denver to meet Gail Barton (Eridani Triad), Rose Beetem, Rusty Hevelin, and Flloyd Johnson. In Minneapolis, she stayed with John and Joan Kuske, and met Joan Appelbaum, Caryl Bucklin, Al Kuhfeld, and Jim Young
Christine Ashby also co-edited The Hag and the Hungry Goblin with Derrick Ashby.