Tales from New Wales
From ZineWiki
Jump to navigation
Jump to search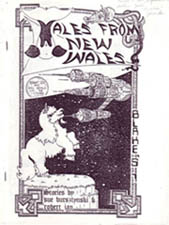 Tales from New Wales is a media science fiction fanzine by Sue Bursztynski and published by Great Raven Press.
Tales from New Wales was released in 1986, It was a 62 page fanzine, and included essays, fiction, artwork and poetry.
Contributions of artwork came from Fiona Ellem, Robert Jan, and Gail Neville. The cover was by Robert Jan.
Writing was by Sue Bursztynski and Robert Jan. Several of Sue Bursztynski's tales incorporate characters from the television series Blake's 7, and one incorporates characters from Star Trek.
Some of the stories by Sue Bursztynski were reprinted from the fanzines Chronicles, the Blake's 7 fanzine by Susan Smith-Clarke, and Enchiridion.
Only one issue of Tales from New Wales was released.