Spaceteer
From ZineWiki
Jump to navigation
Jump to search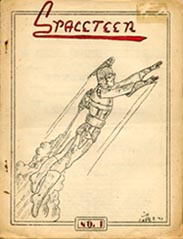 Spaceteer was a science fiction fanzine edited by Lin Carter and Bill Paxton in the late 1940s.
Published in St. Petersburg, Florida, U.S.A., three issues were released. The first issue appeared in August 1947. Issue 2 was released in March-April of 1948, and issue 3 in early 1949.
The first issue included poetry by Lin Carter and fiction by Joe Kennedy (Vampire), among other items. Cover art was by Carter.
Contributions to issue 2 included fiction by Guerry Brown; articles by Lin Carter, Guerry Brown, on The Arkham Sampler, and Bill Paxton, on film versions of Dracula and Frankenstein; and poetry by Lin Carter and Norm Storer. There were also letters from Sam Moskowitz (New Fandom), Joe Kennedy, Dale Tarr, and others. Cover art was by Carter.
Issue 3 included articles by Carter and Kennedy, poetry by Carter and Marion Zimmer Bradley, and letters from Kennedy, Bradley and Moskowitz. Carter provided the cover art for this issue as well.
Throughout the three issues, interior illustrations came from Carter, John Cockroft and Bill Rotsler. Tom Jewet and Len Moffatt (The Outlander, Shangri L'Affaires) also appeared in the letter columns.
Lin Carter also published the reviewzine Spectrum, which lasted five issues from November 1962 to Winter 1964.