Snipehunt
From ZineWiki
Jump to navigation
Jump to search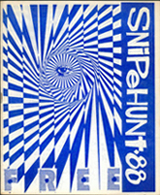 Snipehunt is a zine published in Portland, Oregon, U.S.A. by Mike King.
Snipehunt first appeared in the 1980's, during which time a number of issues were released. This zine focused on the punk, noise, and indie rock scene throughout the world but paid particular attention to the scene developing in the Northwest U.S.A.
One issue features "Crucial Blab", a scene report on bands such as Napalm Beach, Smegma, The Obituaries, Wipers, Rancid Vat, Oily Bloodmen, Bitch Magnet, and The Spinanes; a Eugene, Oregon scene report on places for bands to play and recent shows featuring the bands Dead Moon, Flaming Lips, Bottled Hungarian, O.O.C., Beat Happening, and Doris. The same issue has features with photos on Death Midget, The Flatlanders, Hell Cows, and Smegma; interviews with bands Mondo Beathead; Snakepit, which included future Bikini Kill guitarist Billy Karren and future Sister Nobody editor Laura; East Coast band Big Stick; Dead Moon, featuring musician Fred from 60's band The Lollipop Shoppe, The Weeds, and Zippers, joined by Toody in the 70's for the band The Rats. Also included are Top Ten lists from musicians Monica Nelson, Ron Landoll, John Blender, and Dan Black, and extensive reviews of recordings and live shows.
Aside from editor Mike King, contributors included writers Rob Cassatto, Carl E. A., Elizabeth Everman, Jenny, Mike Johnson, Massiva Massimo, David Morgan, Ken Olson, and Robert, and photographers Lisa Cook, David Morgan, Rebecca, and Rick.
Issue 18 of Snipehunt is included in the Sarah and Jen Wolfe Zine Collection at The University of Iowa Libraries.
External Link