Paragon
From ZineWiki
Jump to navigation
Jump to search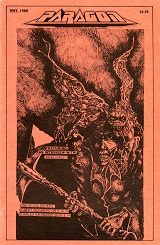 Paragon was a genre zine edited and published by C.C. Clingan from Oroville, California, U.S.A.
Paragon lasted only one issue, dated May 1980.
Fiction writers included William Scott Home and Franklin Searight. Articles were by Dirk Mosig, editor of The Miskatonic, on H. P. Lovecraft, Charles Saunders, editor of Stardock and Dragonfields, on Robert E. Howard, and Robert Weinberg on Clark Ashton Smith. Also included was an interview with John Varley conducted by Darrell Schweitzer, and columns by C.C. Clingan, Chet Hendrix, Don Herron, and Ken Huff.
The story "Interlude at the Bridge", by Franklin Searight, is considered by Edward P. Berglund to be an integral part of the Cthulhu Mythos.
Cover art was by Craig Anderson. Interior illustrations came from Paul Chadwick, John Deaton III, Allen Koszowski, Dave Vosburg, and Joseph A. West.
Clingan also published the zine The Diversifier.