Habakkuk
From ZineWiki
Jump to navigation
Jump to search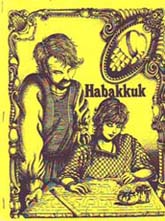 Habakkuk was a science fiction fanzine by Bill Donaho published in Berkeley, California, U.S.A.
Habakkuk debuted in February 1960. Six issues were released, the last in July 1961, before taking a four year breather. Donaho termed each of these periods "Chapters" and each issue a verse, so that this was Chapter One.
Illustrations were by Art Castillo, Trina Costillo, later know as Trina Robbins, Ray Nelson, Bill Rotsler and Bjo Trimble. Written contributions were by rich brown, Art Castillo, Dick Ellington, George Metzger, Ray Nelson, Les Nirenberg (The Panic Button), Kris Neville, Britt Schweitzer, and Ted White (Void).
For Chapter Two in its publishing history, Habakkuk was a Fantasy Amateur Press Association publication. Three verses appeared in this Chapter; the first in May 1966, and the last from this period was published in February 1967.
For this period art work was contributed by Colin Cameron, Ray Nelson, and Steven Stiles. Written work was by Art Castillo, George Eklund, George Locke, Ray Nelson, Eunice Reardon, Alva Rogers and Ted White.
This time 25 years would elapse before a new Chapter arrived. In September 1992 it finally happened. This Chapter saw four verses released, the last in the Fall of 1994.
Contributors of art for this run were Brad Foster, Ray Nelson, Trina Robbins, Dan Steffan, Steve Stiles and Bill Rotsler. Written contributions were by Gregory Benford, Leigh Edmonds, Debbie Notkin, Ted White and T. Bruce Yerke (The Damn Thing).
In each Chapter of its publication history Habakkuk was nominated for a Hugo Award for Best Fanzine.
External Links