Glossolalia
From ZineWiki
Jump to navigation
Jump to search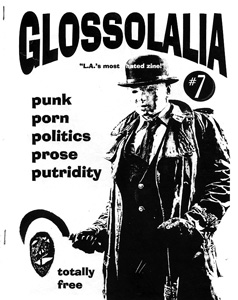 Subtitled "An L.A. Punk Zine," Glossolalia was a photocopied, garage-punk zine from Los Angeles, California. U.S.A. created by Ron K and CHAS. It was known for its interesting interviews with garage-punk bands as well as its brutally honest record reviews, sarcastic local scene reports as well as a feature in which the classical-music, composer-father of one of the editors reviewed punk music. Though initially popular amongst the scenester-set it soon became known as "L.A.'s most hated zine" due to its editors alienating some of the local zines like Flipside, Ben Is Dead and Fiz magazine.
With each issue approximately 600 copies of the zine were distributed for free at local clubs and record stores. Mail order customers were charged $1-$2 per issue (stamps were accepted in lieu of payment). The zine was started by Ron K who was studying for his Masters in Library Science at UCLA. A paper he was writing -- about the history of zines -- sparked his interest in starting a non-political punk zine. A friend of his, CHAS, was recruited to co-edit and do layouts and help with interviews. CHAS had access to a copy machine at a friend's workplace and would photocopy after hours for free.
Issues
Issue No. 1 Released May-June 1993. 26 pages.
The first issue of Glossolalia featured interviews with Pat Todd of The Lazy Cowgirls, Stan Lee from the Dickies and Beth Capper from Oiler. Other features included record and scene reports and a special feature entitled "Losing My Lunch with..." which was featured in all issues of Glossolalia. The first "Losing My Lunch..." article criticized local college radio station KXLU. This issue happened to be read by one of the station's DJs and was brought to the attention of the station manager who immediately called a meeting where copies of the article were distributed and the article discussed at length. Changes were made in the station's format after this meeting. Other features included the first installment of "Vomit, Hatred and Acid" -- punk fiction by future Maximum Rock N Roll zine reviewer Tim Doran.
Issue No. 2 Released Fall, 1993. 70 pages.
Issue #2 of Glossolalia was released later that year. A split cover of two Long Beach bands were featured: The Red Aunts and Beth from Oiler. This became Glossolalia's most popular issue and was favorably reviewed by both Flipside and Maximum Rock n' Roll. Copies dropped off at both Aron's Records and the Auditorium club in Hollywood were taken within minutes. Unfortunately the band members interviewed were less-than-thrilled with the candor of the interviews in which topics such as favorite serial killers and masturbation techniques were divulged. Neither band ever spoke with the Glossolalia editors again. Other features included a photo-essay of a G.G. Allin in-store appearance (just weeks before his death) and a phoned-in-elegy by Rob Shaffner of Mondo Video. The "Losing My Lunch" feature focused on the all-ages, pretentious club Jabberjaw which was written by CHAS in reaction to a perceived overly-positive, disgustingly cheerful interview conducted by Fiz Magazine. Glossolalia's article thoroughly dissected both the club and its owner, Gary Dent which caused something of an uproar in the scenester community at the time.
Issue No. 3 Released January 1994. 90 pages.
Issue #3 of the zine continued interviews with the Red Aunts and Beth/Oiler but also featured an explosive intervew with Jim and Debbie Goad of ANSWER Me! fame. Glossolalia was one of the first Los Angeles-based zines to interview this couple in their Hollywood apartment, shortly before their move to Portland, OR. Other interviews included Andy Seven of Trash Can School fame and a new punk super-group, The Marlowes which didn't stay super for too long and, in fact, broke up before 1994 came to an end. Other articles included the "bottom 10" of 1993, "Uncle Tom's Teen Esteem Corner" plus a strange essay focusing on the connection between cult leader David Koresh and JFK. This issue was so large (90 pages) that each issue had to be individually hand-stapled by editor CHAS.
Issue No. 4 Released Winter 1995. 68 pages.
Issue #4 of Glossolalia continued the interview with Jim and Debbie Goad but also featured new interviews with popular Long Beach garage-punk group The Humpers and L.A.'s the Sacred Hearts, a new group fronted by two members of the legendary '77-era The Zero's. A brief "zine feud" began between Glossolalia and Flipside's Shane Williams when the latter continually interrupted the Humpers' interview with his own less-than-interesting comments. The full text of the interview was included in this interview along with many disparaging comments by Glossolalia editor CHAS who was completely disgusted with Williams. A sympathetic letter from Flipside's Blaze James was published in which he blasted Williams' actions. A second interview with the Humpers was later conducted at the behest of their frontman and vocalist, Scott Drake. Concern over more shenanigans from Williams was allayed by the news that the Flipside scribe had been imprisoned for armed robbery. For the first time paid ads appeared in the zine courtesy Epitaph and Fat Wreckords. "Dr. D's Record Reviews" feature - in which CHAS' retired, classical-composer father reviewed punk music -- became a popular feature. "Dr. D." was later "borrowed" by Rev. Randall Tin-Ear from Angry Thoreauan to write reviews for that zine as well. A satirical article entitled "Barney - Dark Lord of Sodomy" about the children's dinosaur was written by a gay friend. Hate mail was also featured in a letter written by one Steve Maramarco, frontman for several LA bands after reading with displeasure a negative review of a terrible show from issue #3. Steve left his phone number in the letter which prompted Answer Me!'s Jim Goad to phone him up and leave him a less-than-pleasant message. No more mail from Maramarco was sent to Glossolalia.
Issue No. 5 Released Fall 1995. 68 pages.
Golden Apple Comics in Hollywood invited Glossolalia, along with much bigger zines like Flipside and Ben Is Dead, to be a part of a large in-store zine appearance. The new issue of Glossolalia had been completed literally hours before the event began and Ron K convinced CHAS to charge patrons $1.00 for the issue. This strategy turned disastrous as the many patrons who packed the shop only wanted free merchandise. Glossolalia #5, weighing in at over 60 pages featured new interviews with Garden Grove's The Beguiled - a band which broke up shortly after the interview, due to a car accident claiming the life of guitarist Mike Ball. Other interviews included former Controllers members Kid Spike and Maddog's newest band, Skull Control and locals The Grey Spikes. An essay by Raskolnikov on San Francisco "Bitches" was later brought to the attention of an SF feminist who denounced the writer of said article in Flipside magazine. Further discord in the scene was made by Ron K. in his negative review of Flipside magazine #95, calling writer Michele a "narcissistic...self-loving pile of horseshit." Other features included an essay on hating the band Green Day plus several short stories. More hate mail was printed, this time coming from Adam Bregman of Shithappy fame. Without giving specific examples Bregman compared Glossolalia to a "white power" zine. The multi-ethnic crew that made up the Glossolalia staff were amused by this tirade and sent Bregman a letter asking him to explain the specifics of his anger. Bregman did not do this, but wrote back, now accusing the editors of being homophobic for the previous issue's "Barney - Dark Lord of Sodomy" article -- despite the fact that it was meant to be a satire and was written by a gay friend to begin with. Bregman found himself roundly ridiculed by editor CHAS as well as Jim Goad and Andy Seven who were both bemused and irritated by Bregman's audacity.
Issue No. 6 Released Summer 1996. 58 pages.
Glossolalia (now with the "punk, politics and porn" subtitle) buried that hatchet with Flipside's Shane Williams and conducted a 16-question interview with him in Issue #6. Playboy-style questions were re-written and Williams was only too happy for the attention as he was serving 20 years in Calipatria State Prison. Other interviews included legendary Jeff Dahl, the soul-punk Bell-Rays (one of the few bands interviewed by Glossolalia that still exists), and record company mogul Long Gone John of Sympathy for the Record Industry. CHAS wrote the first of a two-part essay, "I Was a Shitworker for Porno Company" in which he detailed the misery of working for "LVA" video -- a thinly-disguised Vivid Video. This article was well-reviewed but by this time - 1996 - the market for photocopied zines was drying up. Zines were becoming more mainstreamed and the multitude of them made it difficult to be heard. For the first time there was no "Letters Page" because nobody bothered to write any letters. Around this time, editor CHAS was interviewed by an independent television producer about punk rock zines in front of Hollywood's Hell's Gate club at a Lazy Cowgirls/Zeros gig. Unfortunately all the interviews and garage punk segments were erased from the final production leaving a hysterically-biased show on the alleged rise of L.A. skinhead racism (which ended up being broadcast on Fox news) instead. Glossolalia was also invited once again to appear at Golden Apple's yearly zine convention. Showing up early, the Gloss crew was able to get a choice table in the front of the store to the great displeasure of some of the other zine publishers who felt that a xeroxed-zine should not be allowed such prominence. One of the major zines present hosted a private party at a bowling alley after the event and invited all but the Gloss crew to attend.
Issue No. 7 Released Summer 1997. 64 pages.
The 7th issue of Glossolalia (subtitled "L.A.'s Most Hated Zine!") was also its last printed one. A new interview with Lazy Cowgirls frontman Pat Todd was conducted as well as a chat with L.A. playwright Justin Tanner. Dr. D. wrote his "A Dim View of Rock" article while trouble-making scribe Raskolnikov continued the controversy with his "What's a San Francisco Liberal?" essay. "Back in My Day, Asshole!" -- a recollection/tribute about the obscure, early L.A. punk band, The Cheifs[sic] was written by Shane Williams. More fiction and record reviews were also written. Technically this was the cleanest, best-designed issue yet but by this time the market for zines was oversaturated, resulting in little notice. For the second straight year no letters came in despite the zine being dropped off in locations as far away as Portland, OR, San Francisco and Washington, D.C.
Issue No. 8 Released 1999-2000. Online only (formerly at www.glossolalia.org).
An eighth issue of Glossolalia was promised but an online issue in 1999 came out instead. Something very strange was afoot as Glossolalia was supposedly taken over by one Kellie Sue Myerson who won the zine in some kind of poker bet. CHAS, Ron K. and the former crew (even Dr. D!) were loudly disparaged by Myerson who begrudgingly agreed to publish interviews that were already set up by the former administration as well as new interviews conducted by her crew which included Orange County's My Sister's Cremation as well as Aunt Flo's Fruit Punch. Neither band ever came to any kind of prominence in any part of the music scene. Scenester support was mixed. On one hand Flipside published a provocative photo of Myerson in her underwear but on the other hand online zines refused to review the new issue. Among the "old" crew's articles came Shane Williams' attempted "Slutcore" interview with Paige Darling of The Darlings. The Necessary Evils, a band fronted by former Beguiled bassist Steve Pallow, were interviewed in the ladies lounge in Signal Hill's Foothill nightclub. Chris Ashford, head of What? and ILOKI records (and former engineer for The Germs) was also interviewed in his West Los Angeles record store. Also featured was an in-depth interview with drummer Thomas Pierik of legendary LA tribal-goth-rockers, Red Temple Spirits. This particular interview sparked angry e-mails as both the singer and former manager of said band disputed Pierik's account of the band's history. More punk fiction and record reviews were also featured. An article about his experiences running Glossolalia until now -- "Anecdotes of a Dead Zine" by CHAS was published while Ron K. wrote a satire entitled "How to Be Hip." The new Gloss editor had the last laugh with a rundown on the "new" Gloss crew featuring an unflattering pictorial essay that spelled disaster for any future readership. A bizarre rundown on cigars was written by "Steve-O" -- one of the new Glossolalia writers, along with a Powerpoint poetry display by one Patty Snegs -- both of which signaled a definite change in Glossolalia's focus. A 9th issue was promised but, thankfully, never delivered. The 2001 dot.com meltdown closed the Glossolalia site for many months. By the time it came back online there was no audience left and Myerson's daddy shut the zine's site down. Rumors have come by ever so often that original editor CHAS will put all the old issues in some sort of online form. Until that time one of Los Angeles' strangest, most controversial zines can only be but a footnote in the history of 1990s punk zines.
Another zine entitled Glossolalia came out in 1993 though no more than 1-2 issues of it were printed. An electronic lit/poetry journal named Glossolalia also existed. Currently a well-reviewed, letter-pressed literary zine with the same name exists and is published in Portland, OR by Sarah Contrary.