Abrupt Lane Edge
From ZineWiki
Jump to navigation
Jump to search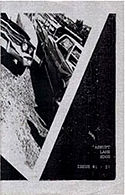 Abrupt Lane Edge is a queer punk zine by Christopher Wilde from the U.S.A. It ran from 1992 - 1996 and lasted for six issues.
The first issue of this cut and paste, photocopied zine appeared in 1992 from Minneapolis, Minnesota. This issue featured the "Blaspheme Religion" contest, and a special citation for Sinead O'Connor for her appearance on Saturday Night Live, ripping up a photo of the Pope. Also included are detourned letters from various organizations; clippings from newspapers; organizations that may or may not be real, like "Homosexuals Anonymous" and "Riot Drrrks"; and and article on Minneapolis punk including Quincy Punx, Scooby Don't, and Rejects. Also included are reviews of the zines Androzine, Homocore Toronto, Rustbelt, and From the Diane Files.
Issue two features articles on Spew 3, more organizations such as "Horny Housewife Hotline", and "Skinheads and Punks Against Homophobia"; The March on Washington; pieces on Robert Smith and The Sugarcubes, and fiction. Also included are reviews of recordings by Conspiracy, Dink, Scooby Don't, a live show by 7 Year Bitch, the video Gender Troublemakers, and the zines Fembot, Fuh Cole, Gender Trash from Hell, Holy Titclamps, In Your Face, Karma Label, Loring Punk, Outpunk, PC Casualties, and Persona.
Issue three is the editor's only issue from Ann Arbor, Michigan, and features articles on Kurt Cobain; comic art by Anonymous Boy; a recounting of going to the editor's last Minneapolis Pride event with Pat (editor of Loring Punk, Not Your Bastard and The nighttime, sniffling, sneezing, coughing, aching, stuffy-head, fever, so you can rest 'zine), who went with an upside down U.S. flag with dollar symbols, anarchy symbols and "Fuck Amerikkka" written on it, and the trouble that ensued; pieces on Dumpster Diving; "Good Punks Gone Bad"; the Mundane Existence House; artist Aerik; Bob Mould; and poetry. Also included are reviews of the zines Dizzy by Jeff Junker, Easily Grossed Out, and Quarter Inch Squares.
Issue Four came out shortly after the death of Kurt Cobain and focuses on music, specifically the Homocore Chicago scene as well as Minneapolis basement show pop punk bands like Scooby Don't. Other articles include I Wanna Be A Mixmaster For Jesus about inane songs the editor learned in Christian Sunday School, erotic drawings submitted anonymously from a reader in Canada, a brief mention of the death of Hole drummer and Minneapolis resident Kristen Pfaff, a centerfold story about influential childhood books from the 1960s and 1970s, essays and prose about sexual abuse, two comics by Anonymous Boy, two Rad Zine Alerts, and a transcript of an Internet Relay Chat that turns homophobic.
Issue Five in its original print run in Spring 1995 features an illustrated cover graphic photocopied in blue toner of a young man riding a bicycle. Several articles are devoted to a Queer Zine Gathering held in Minneapolis in the summer of 1994. One of those article is a profile of performance artist, musician, and queer zine maker Charlie Nash exploring his tribute to underground queer filmmaker Jack Smith titled Anyone Can Step Into The Costume. The centerfold spread is a tribute to 1980s pop music and TV shows. Rory Rides Me Raw borrows the title of a song by the Vaselines to discuss the editor's purchase of and subsequent loss of a mountain bike. Other features include a brief NYC road trip report, news of sexual assaults in "tea rooms" on the University of Minnesota men's room, and a long story about good and bad punk rock housemates.
Issue Six finds the editor preparing to move to San Francisco in the summer of 1996. The article Jesus Does Drag is a scene report from the weekly queer punk dance party Squeezebox at Don Hill's in New York City. A majority of the articles are reflections on friends from the editor's past and a poignant essay about his brother who died in 1990. K-Tel Army is a brief story about collecting K-Tel albums and features a graphic the editor renders from the classic Kiss Army logo. Music reviews feature The Third Sex, Sta-Prest, Pussycat Trash, Behead the Prophet No Lord Shall Live, and Juliana Luecking's spoken word Dream Cum GoDown. Review of the VHS video a Green Pubes by Anonymous Boy. Several promises of content for Issue Seven but that issue never materialized in any public form.
External Link