Witness to the Bizarre
From ZineWiki
Jump to navigation
Jump to search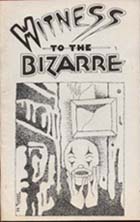 Witness to the Bizarre was a literary horror and supernatural fanzine edited by Melinda Jaeb.
Published in New York, U.S.A., in the 1980s, Witness to the Bizarre is 48 pages, with a stiff stapled cover, approx 5 1/2 by 8 1/2. All three issues were released in 1989.
Cover art was by Jim Taber(#1), Barbara Todd (#2), and Karl Koehler (#3). Kevin Lindermuth did the back cover for issue #2.
Contributors of writing include Keith Badowski, L. Locke Breaux, William Bunce, Richard T. Chizmar (Cemetery Dance), Wade Clark, Denise Dumars, William Gorman, Jana Hakes, Stephen Hess, Ray House, Ronald Kelly, V. W. Massie, Gene Matthews, Brian C. Mullen, Gregory Nyman, Will Prout, Tom Raley, William G. Raley (After Hours), Ann K. Taylor, Tim Thompson, Barbara Todd, Bobby G. Warner, Dorothy Warnke, Sheryll Watt, Dave Witts, and Thomas Zimmerman.