Vegan Freegan
From ZineWiki
Jump to navigation
Jump to search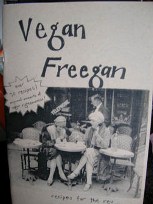 Vegan Freegan: recipes for the rev is a 1/2-letter sized, one-shot vegan cookzine by Jae Steele of Montreal, Quebec.
It was first printed in 2001 in a smaller format, with only 20 recipes, as a fundraiser for a queer environmental project in Toronto. The following year it grew to a 68-page second edition and a cover that boasts "70 recipes and minimal amounts of vegan righteousness!". Among these recipes are Banana-Date-Almond Smoothies, Tempeh "Sausage" Patties, Grilled "Cheese", Red Lentil Dal, Tofu Jerky, Squash au Gratin, Shepherd's Pie with Mushroom Gravy and lots of dairy and egg-free baked goods. The zine's objective was to provide vegans (and others who want to avoid meat, dairy and/or eggs) with a well-rounded range of recipes, from breakfast through to lunch, dinner and dessert.
As a follow-up to Vegan Freegan, jae has put out four issues of a smaller cookzine called Ripe. Her recipes also continue to appear on her food-based weblog, Domestic Affair (domesticaffair.ca). She will be putting out a cookbook called Get It Ripe: A Fresh Take on Vegan Living through Arsenal Pulp Press (arsenalpulp.com) in 2008.
To Order
This zine is no longer available by mail order. When in print, it is available at the Toronto Women's Bookstore and L'Arterie in Montreal, as well as Canadian zine fairs from time to time.
External Links