Vague
From ZineWiki
Jump to navigation
Jump to search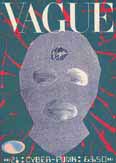 Vague was published by Tom Vague in the UK from the 1980s onwards.
It began life as a better than average music zine covering post punks acts such as Adam and The Ants (before they signed to a major label), Crass, etc and observations on the scene around Salisbury where Tom lived. The complete title to appear on later issues was Vague: Psychic Terrorism Annual.
Vague was the first UK music fanzine to be published with a spine, and later editions expanded the remit to include psychogeography, conspiracy theories, Psychic TV, situationist theory and a whole heap more.
Contributors to Vague have included the musician Mark Stewart and cult author Stewart Home, who provided a supplementary issue of Smile Magazine to some issues of 'Vague.
Tom Vague continues to publish books and pamphlets in the 2000s, covering local history, 70s urban terrorism such as Televisionaries: the RAF Story (AK Press), and UK Situationist group King Mob.
External Links