Urban Legends
From ZineWiki
Jump to navigation
Jump to search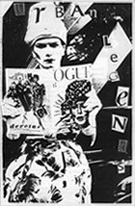 Urban Legends is a zine released by Missy Aggravation, Sad Girl, Cindy Verite, and Miss Sue Problema in Austin, Texas, U.S.A.
The focus of this zine is on culture, and issue two includes interviews with bands such as Sally Skull; "The Cool World of Shirley Clarke and Varl Lee", an overview of the careers of these two filmmakers, who made such films as The Cool World, The Connection and Portrait of Jason, and the challenges they faced being a bi-racial couple in the 1960's; "Girl Power", about the author's experiences in joining a band fronted by two women, and the assimilation of women making music into mainstream culture; DIY scams you can try; an interview of artist Robynn Iwata; essays entitled "Work Sucks", "Class Equality and Gender", and "Feelin' Like A Criminal"; a piece on the Guerilla Girls; an interview entitled "Patti Kim: She's Got The Beat!!!", with zinester Patti Kim, editor of Fuzzy Heads Are Better, and investigations of urban legends about Rod Stewart and New Kids On The Block. The zine concludes with tips on beating boredom.
issue three contains an interview with the band Vyvyan; an article called "Hate Crimes - Coming Soon To A City Near You"; Cindy Verite writing about the documentary film, The Brandon Teena Story; "What Boys Are Made Of", about body image; essays about "Bully Politics"; a critique of Cosmopolitan magazine; an article on The Smiths; an interview entitled "Why I Love G.B. Jones", with G.B. Jones, by Missy Aggravation; regular column on beating boredom; and urban legends on the internet - this issue's legend is "The Neiman Marcus Cookie Fiasco".