Twilight Zine (U.S.A.)
From ZineWiki
Jump to navigation
Jump to search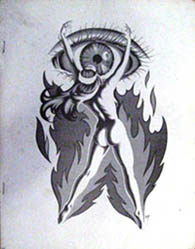 Twilight Zine is a science fiction fanzine published by the MIT Science Fiction Society, Cambridge, Massachusetts. U.S.A.
Twilight Zine, Journal of the Massachusetts Institute of Technology Science Fiction Society, was first published in January 1960. The last number to appear was issue 47 in 2007.
The first editor of the fanzine was Jon Ravin, who also did issue 2; Bernie Morris was editor for issues 3 through 11. Then came Dave Vanderwerf, who was succeeded by Leslie Turek and Cory Seidman, who released issues 17 to 22. Jack Stevens was editor for #28; Janice Eisen for #35. In the late 1980s, the editor was Lisa Kroh.
Twilight Zine was the first fanzine to publish the art work of Stephen Fabien, who got in touch with co-editors Leslie Turek and Cory Seidman after reading a letter they had written to a SF magazine. His drawing appeared on the cover of issue 24, the first appearance of his art work anywhere.
Other artists included Jack Gaughan and Al Kuhfeld.
Other contributors included Mike Deckinger, Joel Gray, Richard Harter (The Proper Boskonian), Doug Hoylman, Edward Keyes, Larry Lennhoff, Bernie Morris, Will Murray, Ed Olsen, George Phillies, Kevin Riggle and Marilyn "Fuzzy Pink" Wisowaty (later Niven).
Interviews with writers such as Glen Cook also were featured.
Letters came from John Baxter, Robert Jennings and Harry Warner, Jr. (Horizons).
After editing 6 issues of Twilight Zine, Cory Seidman went on to edit The Proper Boskonian, and much later Leslie Turek was co-editor of The Mad 3 Party.
External Links