Time Loop
From ZineWiki
Jump to navigation
Jump to search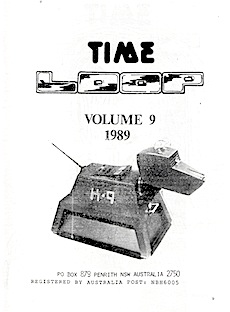 Time Loop was a media science fiction fanzine published by Tina Kennedy and Paul Kennedy.
Subtitled "The Doctor Who Information and Newsletter - With A Difference", Time Loop was the newsletter of a Dr. Who fan club, published in Cambridge Park, New South Wales, Australia. It was released from 1981 till 1989. Each of the issues were offset printed, about 10 to 12 pages, and featured updates on current media events. At least 92 issues appeared. One issue was edited by Tim Richards, editor of Mentalis.
Time Loop won the Double Gamma Award for Best Fanzine in 1984, and 1988. Paul and Tina Kennedy won the Double Gamma Award for Best Editor in 1984.
Contributors included Tim Cox, and Nikki White (Multiverse), among others.
Time Loop also published several annuals, 4 issues of Time Loop Art Zine, one issue of Time Loop Comics, two issues of the Who Do Convention Zine, and three issues of the Time Loop Junior Art Zine.
Time Loop is included in the Susan Smith-Clarke Zine Collection at The National Library in Australia.
External Links