The Revolution Starts At Home
From ZineWiki
Jump to navigation
Jump to search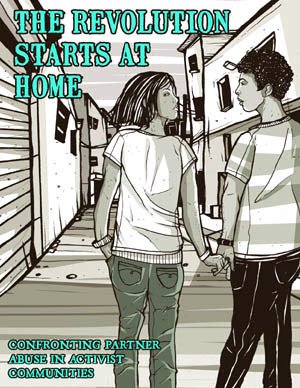 The Revolution Starts At Home: Confronting Partner Abuse in Activist Communities is a compilation zine edited by the Revolution Starts at Home collective: Leah Lakshmi Piepzna-Samarasinha, Ching-In Chen and Jai Dulani. The cover was drawn by Cristy Road.
The Revolution Starts At Home came out as a paper zine in September 2008, at a launch party at Modern Times Bookstore in San Franscisco. At a whopping 111 pages full-sized, it is an uncommonly large zine. It later became available as a pdf on the INCITE! Women of Color Against Violence website.
In 2011, an updated version of The Revolution Starts At Home was published as a book by South End Press.
External Links