The Comet
From ZineWiki
Jump to navigation
Jump to search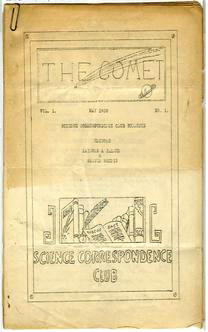 The Comet is a fanzine that was published in 1930 in the U.S.A. by Raymond Palmer and Walter Dennis.
The Comet is widely acknowledged as being the first science fiction fanzine ever published. It was edited by Raymond Arthur Palmer and published by the Science Correspondence Club. As the name of the publisher suggests, it has its origins in correspondence between science fiction fans. Naturally, the letter section of The Comet was a prominent feature of the zine, where readers discussed issues concerning science, science fiction and fiction.
Contributors to this first issue, dated May 1930, included Lilith Lorraine, among others.
After the first issue, the title changed to Science Correspondence Club Organ for the second and third issues. The fourth issue was titled Science Correspondence Club Bulletin. After the fourth issue (September 1930), A.W. Gowing assumed editorship, and changed the title to Cosmology, the title it retained until the seventeenth and final issue (1933). Editorship changed hands once again, though, for the final four issues, to Aubrey McDermott and Clifton Amsbury. Because of the number of issues published as Cosmology, the series as a whole is most commonly referred to by that title; in their Fanzine Index, for instance, Pavlat and Evans catalogue all seventeen issues under Cosmology.
Other science fiction zines following in the wake of The Comet included The Time Traveller and Science Fiction, edited by Jerome Siegel, one of the creators of Superman.
Raymond Palmer went on to edit Amazing Stories and Fantastic Adventures and a number of other magazines issued by his own publishing company.