The Collinsport Call
From ZineWiki
Jump to navigation
Jump to search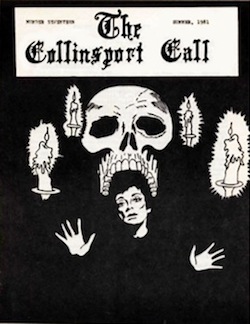 The Collinsport Call was a fanzine devoted to the television series Dark Shadows.
The first issue was released from Rhode Island, U.S.A., in September 1977 by editor Jeffrey Arsenault. Issue 2 appeared in November/December 1977, #3 in January/February 1978, #4 in March April 1978, #5 in May/June 1978, #6 in July/August 1978, #7 in September/October 1978, #8 in November/December 1978, #9 in january/February 1979, #10 in March/April 1979, #14 in November/December 1979, #15 in January/February 1980, #16 in March/April 1980, #17 in Summer 1981, #18 in Spring 1982, and #19 in February 1983.
Art work was contributed by Francis Arsenault, Jeff Arsenault, Mary Carol James, Julie Waters, and Susan Wyllie.
Fiction was by Jeffrey Arsenault, Mary Robin (Shadowgram), and Susan Wyllie.
Poetry was contributed by Melody C., Ann Longmore, Linda Matt, and Susan Wyllie.
Articles were by Jeffrey Arsenault, Sharon Mietzner, Marcy Robin, and Sandy Smith.
As of issue 20/21, published in January 1984, Joseph Collins assumes editorship, while Jeffrey Arsenault continues to contribute. Issue 22 appears July/September 1984
During this period, contributors of fiction include Jeffrey Arsenault, B.A. Dennison, Mark Hardy, Mary Robin, and John M. Taft.
Articles were by Janet Fanale, Banks Indornto, Jeff Thompson, and Susan Wyllie.
Poetry was by Melody C., and Ann Longmore.
Artwork was contributed by B.A. Dennison, among others.
The Collinsport Call issue 23/34 was published in October 1984/March 1985. For this last issue, Jeffrey Arsenault resumes editorship, and Joseph Collins is listed as editorial assistant.
Jeffrey Arsenault was also one of the organizers of the first East Coast Dark Shadows festivals in Newark, New Jersey, U.S.A. in September/October 1983.