Telegram Ma'am
From ZineWiki
Jump to navigation
Jump to search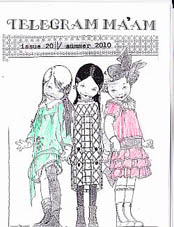 Telegram Ma'am is a perzine written by Maranda Elizabeth of Lindsay, Ontario, Canada and Guelph, Ontario, Canada and, most recently, Toronto, Ontario, Canada.
Maranda Elizabeth is a writer, zinester, introvert, identical twin, high school dropout, & recovering alcoholic. They write about mental health & illnesses, borderline personality disorder, trauma, fibromyalgia, writing & creativity, friendship, magic & witchcraft & Tarot, self-care, support & $upport, alienation & the illusion of community, and embracing weirdnesses.
Several issues of Telegram Ma'am have been published as split zines, including numbers 12 and 17 with Culture Slut (written by Maranda's twin sister Amber Deareset) and number 18 with Your Pretty Face is Going Straight to Hell by Miss Tukru.
When Maranda came out as genderqueer, they altered the title of their zine from Telegram Ma'am (inspired by the T. Rex song, Telegram Sam) to, simply, Telegram. Issues 24 and onward are written under this title.
In October 2012, they released an anthology of their zine, called Telegram: A Collection of 27 Issues published with Mend My Dress Press. There are currently thirty-seven issues of Telegram zine. The most recent issue was printed in Spring 2015.
External links