Sidney Suppey's Quarterly & Confused Pet Monthly
From ZineWiki
Jump to navigation
Jump to search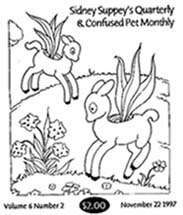 Sidney Suppey's Quarterly & Confused Pet Monthly is a zine by Candi Strecker.
Published in Brisbane, California, U.S.A., Candy Strecker first released this title in 1979 and continued publishing throughout the 1980s and 1990s. Approximately 24 issues were published.
Strecker describes it as; "a mix of mutant trash culture, thought-provoking juxtapositions, bemused natterings and street-level anthropology."
Topics listed include:
Volume 6 No. 1, "Highlights for Lowlifes," 3/96 (20 pp.) (Best bits from the first 16 out-of-print issues of the SSQ&CPM, 1979 - 1983)
Volume 5 No. 6, "Clip and Save!" 3/95 (20 pp.) (The Repo Man Generation, my Martha Stewart obsession, Moderan)
Volume 5 No. 5, "Virtual Potatohead," 8/91 (16 pp.) (Virtual Reality debunked, MST3K, Thrift Shop Confidential Pt. 2)
Volume 5 No. 4, "While You Were Out," 7/89 (14 pp.) (Dish collecting, Thrift Shop Confidential, Ennio Morricone, Phil Harris)
Volume 5 No. 3, "Watchtower/Watchman," 4/87 (18 pp.) (Irreverent reference books, exotica music, DINKs, Galaxy Rangers)
Volume 5 No. 2, "Heroes of the Garage," 4/86 (20 pp.) (Exotica music, Lowlife Scum, Three Stooges books, Brazilian cult)
Volume 5 No. 1, "God Don't Like It Too," 11/84 (14 pp.) (Ranters Gene Scott, Wally George, Joe Bob Briggs; Dr. Peculiar comics)
Candi Strecker also does the zine It's A Wonderful Lifestyle. She has written for the San Francisco Bay Guardian, was interviewed for the Re/Search Publications book on Exotica Music entitled Incredibly Strange Music Vol. 2, and writes for zines such as Bruce Townley's Oblong.
External Links