Scam
From ZineWiki
Jump to navigation
Jump to search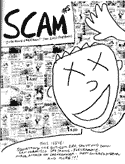 Scam zine, published by Iggy Scam, is an influential zine first released in the mid 90s. Currently, there are 9 1/2 issues published. The latest, covering the story of Black Flag's Damaged, was released in 2012.
Like its Berkeley contemporary, Cometbus, its content consists of stories told from a first person narrative perspective, and cover some of the same subject matter. Scam goes more indepth with politics, including reports on creative protests such as the mission Burrito project, graffiti, and reports from protest events. It also includes interviews with activists and punk bands.
The thick issues are usually compiles of Iggy's writing in various other magazines such as Maximum Rock N Roll, Error, etc., as well as new writing. Scam was featured in Volume Two of 1997's Zine Yearbook.
In his most recent issue, Iggy explains why he is now using his original name, Erick Lyle, from now on.
External link