Cometbus
From ZineWiki
Jump to navigation
Jump to search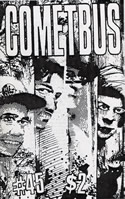 Cometbus is a punk zine, started in Berkeley, California in 1983 by Aaron Cometbus, born Aaron Elliot. For the past 20 years Aaron has been self-publishing his usually handwritten zine, including band interviews, diaries and observations on the punk subculture in the San Francisco Bay Area and from his travels, many of which involve long, grueling cross-country rides on Greyhound buses.
Selections from 48 issues of Cometbus have been collected into a single volume, titled Despite Everything: A Cometbus Omnibus (Last Gasp of San Francisco; September 2002, ISBN 0867195614).
Two collections have been translated into French, including En dépit de tout (1997).
Cometbus' distinctive handwritten script can be seen in early Green Day album liner notes, the Jawbreaker collection "Etc.", and is emblematic of the decidedly lo-fi zine culture. In recent issues, however, he had switched to typing.
The latest issue, #54, is about Cometbus going on tour with Green Day in Asia.
Cometbus is included in the Sarah and Jen Wolfe Zine Collection at The University of Iowa.
External links