Physicality of Words on Paper
From ZineWiki
Jump to navigation
Jump to search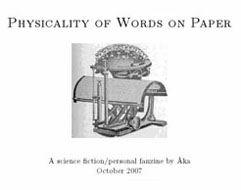 Physicality of Words on Paper is a science fiction fanzine by Aka, also know as Anna Davour.
Physicality of Words on Paper was first published in October 2007, in Kingston, Ontario, Canada. Anna Davour has previously published the fanzine Of Physicists and Fen.
In the first, and perhaps only issue, the editor tells us she has recently moved from Sweden to Canada, and writes about the "Little everyday differences" between Canada and Sweden. She relates her story of how she met fellow fantasy readers after moving to Kingston. Also included are reviews of fanzines such as Steam Engine Time, and Steampunk Magazine. Letters are from Chris Garcia (The Drink Tank), Jerry Kaufman (Littlebrook), and Peter Sullivan.
External Links