Pavement of Surface
From ZineWiki
Jump to navigation
Jump to search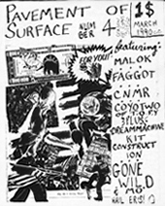 Pavement of Surface is a zine by Deke Nihilson.
Published in the late 1980's till 1990, five issues of Pavement of Surface were released. The zine included material of both an anarchist and spiritual nature, often in combination, as well as announcements from various organizations such as the South and Central American Indian Information Center, Greenpeace, Refuse and Resist, the Counterattack Conference, Queer Nation, and the I.W.W., among others.
Pavement of Surface includes much original content as well, including writing and detournment of advertising by the editor, an interview with Doc Corbin Dart of the band The Crucifucks, a story by Ray Reich, a photo of Miss Christine of The Cockettes, a comic by L. Beausoleil, an article entitled The Revolver by Coyotwo of T.O.P.Y., and contributions by Malok, C. Nash, Luke Breckon, and Mike Richard. The zine also reproduces difficult-to-discover material from Temple Ov Psychick Youth, Smile Magazine, Aleister Crowley, and The Emperor Wears No Clothes by Jack Herer.