Parker's Peregrinations
From ZineWiki
Jump to navigation
Jump to search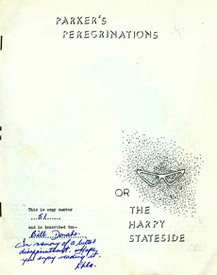 Parker's Peregrinations was a science fiction fanzine by Ella Parker.
With the full title, Parker's Peregrinations Or The Harpy Stateside, it was published in the UK in April 1962. Parker's Peregrinations was Ella Parker's account of her tour of the U.S.A. meeting science fiction fans across the continent.
Parker's Peregrinations was among the Top Ten fanzines in the Skyrack Reader's Poll of Best British Fan Publications for 1962. It was also voted 'Best Fanzine Report' for the same year. Ella herself was voted 'Fan Personality of the Year' for 1962.
Ella Parker's trip had been the topic of conversation among fans for a year prior. According to Rob Hanson's Then (Vol, 3, No. 1): "SKYRACK 32 (May '61) carried the news that Ella Parker intended to be at the 1962 Worldcon, to be held that year in Seattle during September. Bennett reported that the Parker Pond Fund had been set up, administered by Don Ford and Betty Kujawa in the US and by Ted Forsyth over here, for those who wanted to make donations towards the trip. Parker had a particular reason for wanting to attend the Seattle Worldcon, one that involved Seattle fan, Wally Weber (Cry of the Nameless). As Harry Warner, Jr. explains:
"Only a few weeks into 1960, Wally Weber became so exasperated by the continuing failure of his long efforts to irritate her that he called her a stupid clod of a woman. Immediately, Ella became the topic of the universe's third special fund for a fan trip, in 1961, so she could go all the way to Seattle and take action appropriate to the magnitude of the Weberian remark."
Ella Parker left for America on Tuesday the 22nd of August 1961, and returned December 2nd of that same year. During her time abroad, Skyrack published regular dispatches from fans in America on Ella's journey.
In 1963, Ella was one of the fans supporting Wally Weber for his own TAFF sponsored trip to the UK, which he won.