Paris Fucking Hilton
From ZineWiki
Jump to navigation
Jump to search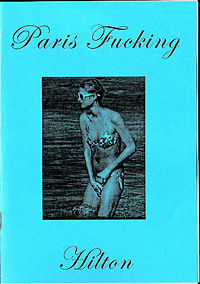 Paris Fucking Hilton is one of the small zines of the Catalogue Library series.
Catalogue Library is an independent publishing platform for artists and designers started by Catalogue.
"The project embodies the idea that zines should be a quick representation of a subject or idea. This ethos is carried through into the production of our zines, printed with basic materials and made by hand." (info from homepage)
The zine was printed on demand in running edition of 50. The 12 pages were B&W Laser printed (with a HP Laserjet 5000n) with colour cover. The series was first exhibited at LOOP Arts Fair 2011.
The zine is part of the St. Patrick's Zine Library.
External Link