Not Sorry
From ZineWiki
Jump to navigation
Jump to search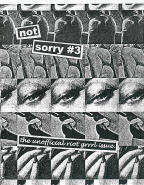 Not Sorry is a Riot Grrrl zine.
Not Sorry #3: the unofficial riot grrrl issue
72p, 1/4-size
Released 5/11/05
Not Sorry #3 has been a year in the making. In fact, the first half was written almost a year ago and the rest was written in march and april of 2005. Its subtitled, "the unofficial riot grrrl issue,". The pieces included are about the editor's big move to portland and the incidents that followed, mental health crapola, fatphobia and fat-posi identity, the experiences she has had with men and a few other minor pieces and rants.
not sorry #1 & #2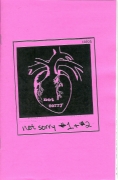 30p, 1/2-size
released 10/20/05
not sorry #1 & #2 have been important documents of the editor's transition. She writes, " i've grown up a lot in these pages and figured things out about myself that i don't think i could've learned to do anywhere else. while i put these issues out of print for many reasons, i hate to see a zine just die. i created this compilation to keep the pieces i love alive and as a living document of how far i've come. many of the previously untitled pieces now have titles and i've included follow-ups to some of the pieces, simply because i never really can shut up (ha). even though i love all of these pieces in their own way, some are hilariously embarrassing and i really hope that people will see through the ranty and sometimes ill-informed nature of my older writing. besides, i totally wrote about Kathleen Hanna in my first issue, so how could you possibly resist?"
External Links