Mystery Date
From ZineWiki
Jump to navigation
Jump to search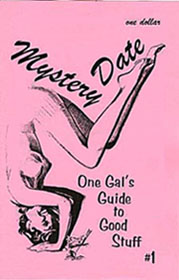 Mystery Date "One Gal's Guide to Good Stuff', is the zine from Lynn Peril from San Francisco, CA, U.S.A.
Mystery Date first appeared in 1994. It is 8.5" X 11" folded in half, photocopied with a color cover. The title comes from a popular 1960s board game for girls. The inspiration for the zine came when Lynn Peril found the 1962 book "Health and Safety for Teen-Agers." She began collecting old etiquette and beauty publications, home economics textbooks, self help guides from the 1950s and 1960s, and other graphics from the past which she utilizes for the layout and themes for her zines. Six issues were released.
Issue #6, published in 1998, was the last issue, and included a story about bra shopping by Candi Strecker, editor of Sidney Suppey's Quarterly & Confused Pet Monthly, plus articles on the history of the bra, the world of feminine hygiene, and an overview of celebrity advice guides for teens.
Other issues featured articles on home economics classes, sex education records, books on Jayne Mansfield, educational films, and Lynn Peril's own experiences as a platinum blonde. The topics often relate to gender roles.
Mystery Date is included in the West Coast Zine Collection at San Diego State University.
In 2002, Lynn Peril released her first book Pink Think: Becoming a Woman in Many Uneasy Lessons, published by W.W. Norton and Co, followed later by College Girls in 2006, and Swimming in the Steno Pool, published in 2011 by the same publisher. She also writes the column "The Museum of Femoribilia" for Bust Magazine.
External Link