Ms America zine
From ZineWiki
Jump to navigation
Jump to search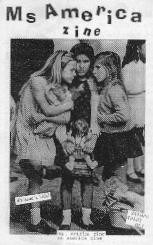 Ms America zine was a Riot Grrrl zine by Sarah and Jen, published in both Normal, Illinois and Chicago Illinois, U.S.A.
Three issue of Ms America zine came out in the 1990's. The zine included short essays.
Issue two featured an interview with Wanda Harper, tattoo artist; going to an auditorium show that included 7 Year Bitch and the reception from male audience members; review of a Tribe 8 show; "Riot Grrrandmas"; and Jen and Sarah's adventures walking around and going to Denny's to try to do their zine.
Issue three included topics such as women's reproductive health and beauty myths, and articles such as "The Urge are a bunch of poo-poo heads they suck!" about the St. Louis band the Urge and their sexist stage show; "Girls Only" about the Girl Convention in Omaha; and "Lois", recounting adventures at a Lois concert.
Also in every issue was "A Guide to Girl Bands" including short descriptions of bands. Issue two featured Autoclave, Fifth Column, Kreviss, Harry Crews, Juliana Lueking, Heavenly, Heavens to Betsey, Motorhoney, Mudwimmen, My Favorite, Raooul, Red Aunts, The Slits, The Smears, Spitboy, Suture, Tiger Trap, The Trashwomen, Tsunami. Issue three featured the bands Bloody Discharge, Bunnygrunt, Excuse 17, Skinned Teen, Strawberry Story.
Ms America zine is included in the Sarah Wood Zine Collection at Duke University Library. It is also included in the Sarah and Jen Wolfe Collection at The University of Iowa Libraries.
See also
External Links