Growing Pains
From ZineWiki
Jump to navigation
Jump to search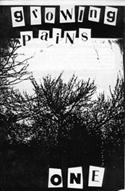 Growing Pains was a zine by Sarah Kennedy and was published in Chicago, Il., U.S.A. in the 1990's.
Growing Pains is a collection of diary entries, essays, lists, poems, artwork and New Year's resolutions. In Growing Pains, Sarah attempts to describe and critique her upbringing and present life, detailing how the past has influenced the present and the effects her interest in feminism and class consciousness and being a queer Riot Grrrl have on her perceptions of past and present surroundings and her position in society. Growing Pains also included contributions by Erika Reinstein and Jenny.
Before publishing Growing Pains, Sarah Kennedy co-edited Ms America zine.
Growing Pains is included in the Sarah Wood Zine Collection at Duke University Library.
External Link