Mnemonic Hi-Fi
From ZineWiki
Jump to navigation
Jump to search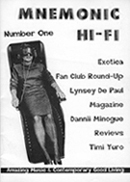 Mnemonic Hi-Fi is a zine by Wayne Davidson, published in Victoria, Australia, in 1996.
This is a publication devoted to Pop Culture, whether it be chart toppers or more obscure relics of bygone eras. This zine contains articles on Exotica such as lounge music from the late 1960's; a history of singers Timi Yuro and Lynsey De Paul; an article on the band Magazine; an account of meeting Dannii Minogue; "Wayne's Fan Club Round Up", about joining The Pastels fan club, "Friends of the Pastels", and the Pet Shop Boys fan club; and reviews of popular contemporary bands such as Soft Cell and Stereolab alongside past hitmakers such as The Shangri-Las, Peter Nero and Percy Faith.
Contributors included Jeffery Kennedy and David Nichols.