Ln
From ZineWiki
Jump to navigation
Jump to search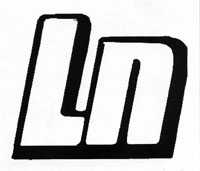 Ln is a zine from Hamburg, Germany.
The zine has been published by Ellen Gronemeyer (Ln) in 2001 with contributions by various artists from Hamburg.
Contributing artists included Christoph Rothmeyer, Girl.tv, Ellen Gronemeyer, Alex Heim, Patrick Rieve, Malte Urbschat, Mark Wehrmann, Kathrin Wolff and others.
After this fist issue of Ln was published, Ellen Gronemeyer, Kathrin Wolff and 5 other girls from Hamburg started to work as an artist collective. Among other activities they produced several issues of the fanzine Iron Maiden.
This publication is included in the collection of the St. Patrick's Zine Library.