King-Cat Comics and Stories
From ZineWiki
Jump to navigation
Jump to search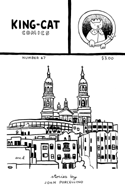 King-Cat Comics & Stories is a zine by John Porcellino, published since 1989.
John Porcellino was born in Chicago, IL in 1968. He created his first comic, called Invasion of the Incredible Blobs, in 1977. His first zine was Tales of Hogarth the Barbarian Pig, published in 1982. Other zines include Zo-Zo (1985-86) and Cehsoikoe (1987-1990). He began King-Cat in May of 1989. King-Cat Comics & Stories is mainly an autobiographical zine of comics and writing. The most recent issue, number 74, was released in November 2013.
King-Cat Comics has been translated into German, French, Spanish, Swedish, and Italian.
From 1992-2000, John ran the Spit and a Half zine and comics distro, which he restarted in early 2010. He has contributed to a number of zines including Not My Small Diary and Rollerderby. John presently publishes his work from South Beloit, Illinois.
The King-Cat Comics series Diary of a Mosquito Abatement Man was re-released in book form by Zak Sally's independent publishing company, La Mano 21. The book received the 2005 Ignatz Award for Outstanding Anthology or Collection.
In 2007, Drawn and Quarterly released a 384 page hardcover collection of stories from the first fifty issues, called King-Cat Classix. This was followed in 2009 by a second collection entitled Map of My Heart, which collects work from 1996-2002.
King-Cat Comics was selected as the winner of the "General Excellence--Zines" category in the 2002 Utne Independent Press Awards by the editors of Utne Reader.
King-Cat Comics and Stories and King-Cat Classix are included in the Sarah and Jen Wolfe Zine Collection at The University of Iowa.
External Links