Jeff Chapman
From ZineWiki
Jump to navigation
Jump to search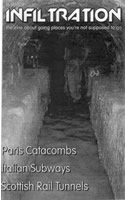 Jeff Chapman, of Toronto, On., Canada, published the zines Infiltration and Yip under the aliases "Ninjalicious" and "Milky Puppy" respectively. He also compiled the one-shot Now You're Cooking With Food and appeared on the radio program This American Life.
He maintained a vocal presence on alt.zines, wrote the last published draft of its FAQ file, and was generally considered its de facto moderator. A lover of subtle, cryptic humor, Chapman kept separate post office boxes for Infiltration and Yip and often cracked jokes at his own expense.
In September 2005, at age 31, Chapman died of a long-term illness. He was widely mourned in the zine community.
External Links