Figure 8
From ZineWiki
Jump to navigation
Jump to search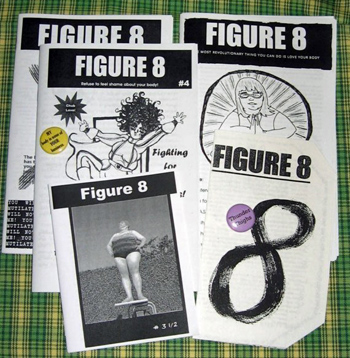 In her zine, Figure 8, Krissy Durden writes about sizism, fat acceptance and The Body Revolution. The zine is based in Portland, Oregon, U.S.A.
Issue 1 was a one pager that was made for the first Portland Zine Symposium in 2001. Issue 2 came out in 2003 in time for the first FatGirl Speaks in Portland. Issue 3 came out in 2005, issue 3.5 in 2006 and issue 4 was first published in the summer of 2007.
Issue 5 of Figure 8 is called a Rainy Day Activity book and is filled with body positive and fat equality games and activities. It was published in 2009.
Figure 8 was featured in volume nine of the Zine Yearbook, released in 2008. It is included in the West Coast Zine Collection at San Diego State University.
Figure 8 was also featured in the a 2009 issue of Signs - a Journal of Women in Culture and Society published by the University of Chicago Press. The essay was written by Jenna Freedman and titled Grrrl Zines in the Library.
External Links