Jenna Freedman
From ZineWiki
Jump to navigation
Jump to search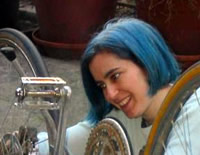 Jenna Freedman is a zinester and librarian from New York City, N.Y., U.S.
She writes the zine Lower East Side Librarian and founded the zine collection at the Barnard College Library, where she is the Associate Director of Communications and Zine Librarian (having worked there since 2003).
Freedman is also a founding member of the Zine Librarians Yahoo Group and of Radical Reference. She writes and speaks frequently for trade and scholarly publications, as well as library and academic conferences about zines. She also founded and edited the quarterly Zine Reviews column in Library Journal, which ran from 2008-2012.
Zines
As well as writing Lower East Side Librarian, Freedman has occasionally contributed to other people's zines - notably those created by her close friend, and fellow alumna of the University of South Florida's Library & Information Science graduate program, Celia Perez.
They, along with Debbie Rasmussen and John Alexander Stevens, participated in the Orderly Disorder: Zine Librarians in Circulation tour in the Fly Away Zine Mobile in the summer of 2011.
Her one-off zines include a zine tour zine, a compilation zine by librarians and archivists about menstruation and limited distribution zines from her wedding, friends' baby showers and a 12-hour zine challenge zine.
Newsletter
Contact
Contact Jenna at leslzine@gmail.com with questions or comments.
External Links